BUTCH WARREN FRENCH 5TET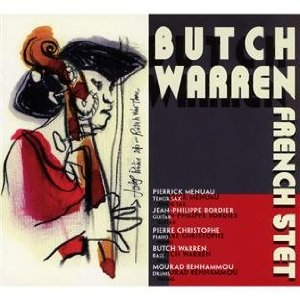 MADE IN FRANCE - QUANTITIES EXTREMELY LIMITED!!!
This fantastic recording is a truly fine representation of his formidable abilities and continued vitality as a composer, band leader and player. If you've been fortunate enough to see him locally this rounds out that experience since the players (and some of the instrumentation) are different than area contexts.
PRICING
Available for $18 (first class postage paid) to the US or Canada or $20 US (international first class postage paid) to the rest of the world.
ORDERING
WE ARE NOW SOLD OUT...
You may be able to find it at retailers, distributors or the label in Europe.
A BRIEF OVERVIEW OF THE PROJECT
Over 50 years after his start as a professional musician Butch Warren's debut solo CD has finally been released. It is worth the wait (though truly unfortunate that he has not been recorded at all in several decades). Beautifully captured in live performance with a well rehearsed, extremely cohesive, sympathetic collective of French musicians, this CD contains some performances as good as anything he's ever played (and that's saying a lot considering his days as a house bassist with Blue Note in the early 1960's and his time with Thelonious Monk). This project offers a number of his originals (many never before recorded) as well as new takes on the songs of Hank Mobley and Kenny Dorham, who Butch regularly recorded with in the peaks of their creativity. His signature sound is clearly evident throughout this project.
THE SONGS INCLUDED ARE:
A Little Chipie (Butch Warren)
East of the Village (Hank Mobley)
Laura (Mercer/Raskin)
I Remember Monk (Butch Warren)
Barack Obama (Butch Warren)
Eric Walks (Butch Warren)
The Theme (Kenny Dorham)
Blue Bossa (Kenny Dorham)
SAMPLES (MP3 excerpts - low bit rate so the CD sounds even better than these):